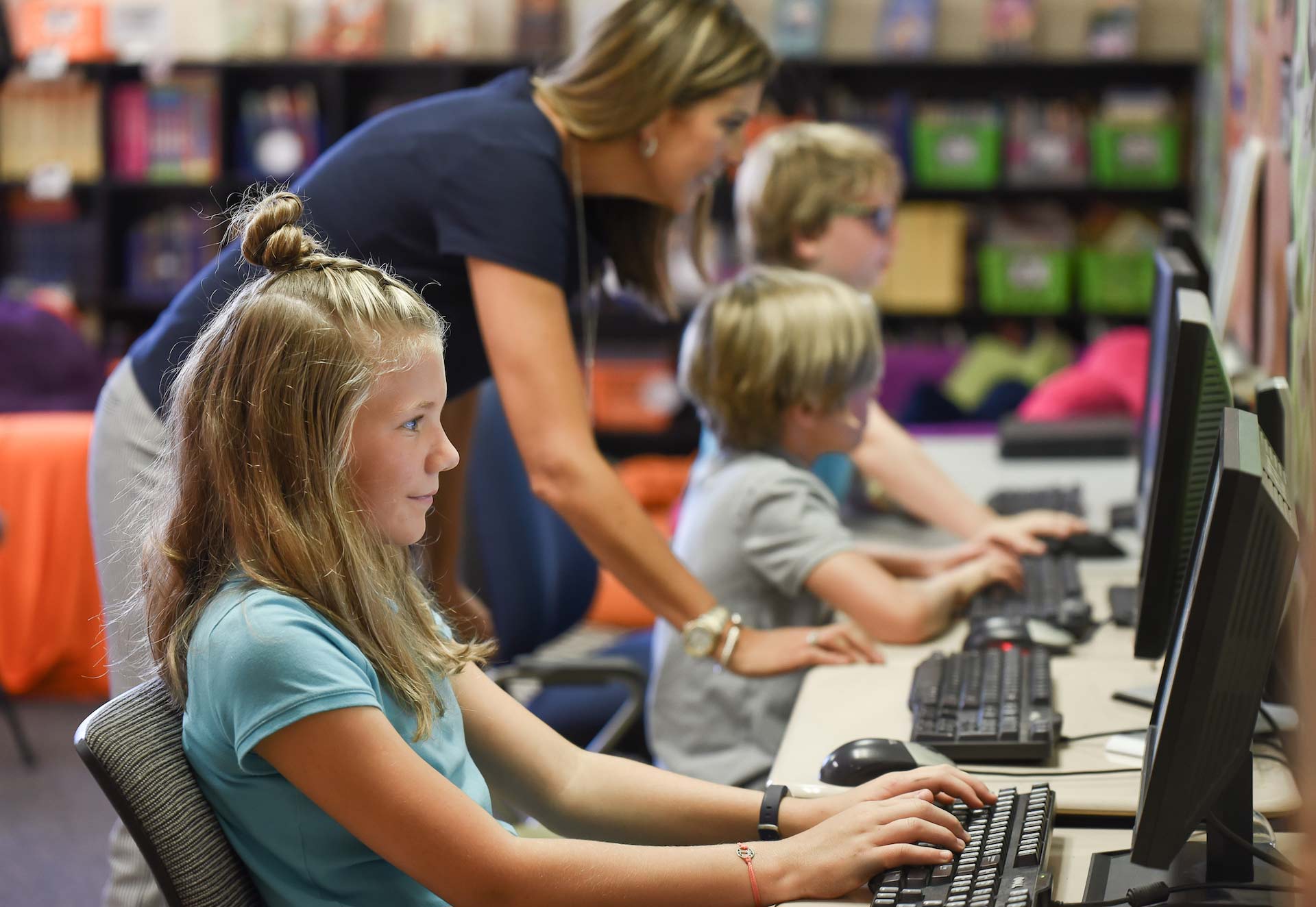 Frequently Asked Questions
What's the First Step to Enrolling my Children?
We're so glad you're ready to join us! To apply, complete our online application and submit the additional documents requested so that we can consider your child's application. We're here to help if you have any questions along the way.
What is the Deadline to Apply?
We operate on a rolling admissions basis so families may always apply anytime. Enrollment season for the upcoming school year typically opens in January. To see if there are available seats in your grade, contact our Enrollment Director, Jill Randall.
What Happens on a Tour of the Lower Schools?
Led by the Campus Director, you'll see our facilities, meet staff and students, and hear how we educate – with an interactive framework that makes students excited to learn and care for their world. Our Director will usually schedule a testing appointment while you're there and your visit with her that day may serve as your family interview.
What Happens on a Tour of the Upper School?
During a visit to our Middle and High School, you'll get to know our Admissions Director, see our state-of-the-art facilities, meet administrators and staff, and hear how we mold Ambassadors through excellent academics and programs. If you have a particular area of interest, let us know ahead of time and we'll arrange for you to meet someone from that specialty.
Is Testing Required?
Testing is an important part of our Admissions process so that we can be sure your child will be successful at NCS. For students who will be in Pre-K through 5th grade, you will schedule a testing time with the Campus Director. Students in rising grades 6 – 12 will be given instructions for scheduling directly with our testing partner after an application is submitted.
How Do I Find Out About Financial Aid?
We understand paying for private school can be a barrier and we're here to help. Our Financial Aid program makes a difference for many NCS families. Visit our Affordability page to learn more.
Is Everyone Accepted?
Norfolk Christian has a selective Admissions process, knowing we are not the right fit for every student or family.
We accept students who are at grade level understanding or above in core courses and who have a history of being a positive influence on their classroom environments. Evaluations from former teachers are helpful to this process. We also ask that students have demonstrated respect for authority in their previous school settings and that they do not have major conduct infractions.
We accept families in which at least one parent has a personal relationship with Jesus Christ. A written Personal Testimony from at least one parent is required as part of the application process. Parents should be willing to partner with us in educating their child from a Christ-centered point of view, as well as maintaining a home environment and lifestyle that support Scriptural principles and our Statement of Faith.
In addition, we ask that at least one parent is active in a local church that teaches in agreement with our Statement of Faith. An Active Community Involvement Form filled out by a pastor or church leader is required as part of the application process.
What are Your School Day and Extended Care Hours?
The Upper School day runs from 8am until 3:05pm. Early morning supervision is available for free after 7am and Supervised Study Hall is open until 6pm for $15 per day. Students waiting for practices or rehearsals to begin may stay in SSP at no cost until their scheduled start time.
The hours for both of our Lower Schools are 8:15am – 2:50pm, with early drop-off available at no cost after 7:45am. Extended care is open at 6am for children needing early morning care and again after school from 3:00pm – 6:00m.
Care from 7am – 5:30pm is included in tuition for students in full-time PK3 and PK4 classes
LOWER SCHOOL EXTENDED CARE COSTS
$75 per student registration annually
Before-school care:
$  6 (before 7:45am)
After-school care:
$ 10     3pm – 5pm
$ 7.50  5pm – 6pm (additional)
UPPER SCHOOL SUPERVISED STUDY PROGRAM COSTS
$15 per day if not picked up by 4pm
What is Your Dress Code?
Dress Codes can be found here:
Do You Offer Transportation?
For an additional fee, Norfolk Christian offers transportation from community bus stops in Chesapeake, Virginia Beach, Norfolk and Portsmouth. We also have a bus that runs from our Beach Campus to the Upper School and back each day.
Do You Serve Lunch?
Yes! Our Executive Chef plans daily hot lunches at the Upper School, and a la carte items are always available.  Students purchase lunch through a debit account which parents fund online.
Lower School students may purchase a complete hot lunch prepared by our Upper School Cafeteria, with orders submitted for the days of their choice every two weeks. 
Isn't it Time to See Norfolk Christian for Yourself?