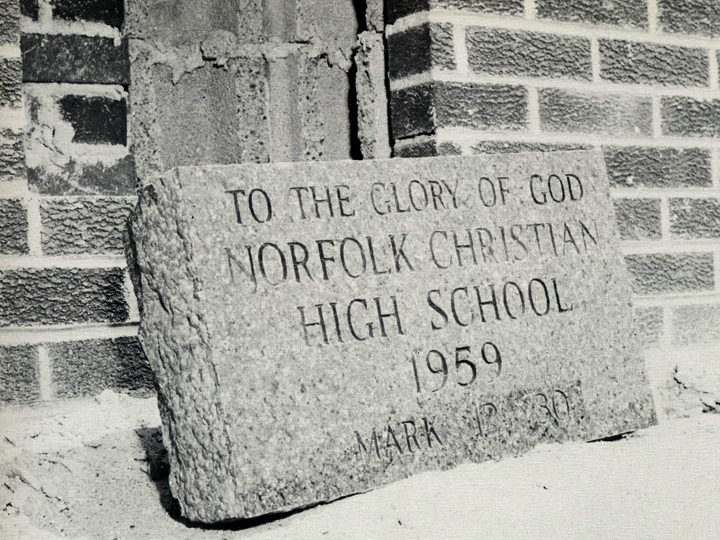 History of Norfolk Christian Schools
With only five Christian schools existing in Virginia, Norfolk Christian Grammar School was founded in 1952 as a non-denominational Christian day school by Pastor John Dunlap. Pastor Dunlap's vision was to establish a school for Christian parents that would offer their children an excellent education and complement the biblical values of their families and churches.
II Corinthians 5:20 provided the biblical instruction that became Norfolk Christian's foundation:
"We are therefore Christ's ambassadors, as though God were making his appeal through us. We implore you on Christ's behalf: Be reconciled to God."
Norfolk Christian students were named "Ambassadors" and the school's colors were chosen. These colors signify the royalty of God (purple), His kingship (gold), and the washing clean of sin we each have available through Jesus Christ (white).
Under the strong guidance of Dr. Gene Garrick, the school's first headmaster, Norfolk Christian prospered as an outstanding Christ-centered program. As a result, a high school was added in 1959 and Norfolk Christian saw its first class of students graduate in 1962. Always on the forefront of advancing Christian education, Drs. Dunlap and Garrick pursued excellence in the schools' curriculum and programs, and encouraged other schools around the country to do the same.  Their strong commitment to global missions became a hallmark of the Ambassador experience and formed the basis of the school's steadfast commitment to spread the Gospel.
Today, Dr. Dunlap's humble vision for a Christian school has grown into a landmark institution with an international reputation for exceptional students who have hearts for sharing Christ with the world.
Read more about the school's founding in our 65th anniversary article.
Isn't it Time to See Norfolk Christian for Yourself?